Used Porsche Buyers Guide
---
Before you buy a used Porsche, be sure to check that the engine has not been abused and the odometer is accurate.
Porsche regularly refuses to offer warranty repairs on engines that have been over-revved and abused. But now, you can check a used Porsche before you buy it!
Shopping for a used Porsche with Durametric makes this analysis easy. Just take your laptop and your Durametric kit with you to be certain the purchase you are making is one you will not regret.
The Durametric Diagnostic tool allows you to check if the odometer is accurate, and to review the engine's computer to see engine over-revs, rev-limiter usage, and operating hours. You can also see if the car has any stored fault conditions. Such details might inform you of any repairs that are needed and may save you thousands of dollars.
Please note that abuse information is available on Boxster, 996, 997, and Cayman. There is no abuse information available on Cayenne, 993, and 964. The Model Feature Matrix page provides information on Durametric's compatibility by Porsche model.
In the example below, you can see the statistics and data related to the car's ignition ranges, VIN number and body color - all pieces of information that assure you the vehicle is as it appears.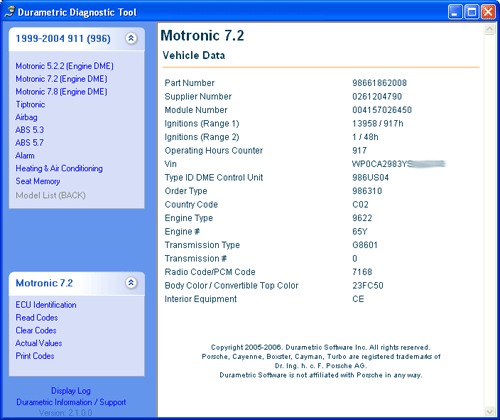 Notice the section for "Ignitions (Range 1)." This vehicle shows "13958/917h" which means the vehicle has used the rev-limiter for 13,958 ignitions, the last time being at 917 hours. So this indicates the engine was red-lined often and the last time occurred recently since the engine only has 917 hours.

Notice the section for "Ignitions (Range 2)." This vehicle shows "1/48h" which means the vehicle exceeded the red line one time during 48 hours of operation. This is an example of a possible car a Porsche dealer will not perform warranty work on as this metric indicates abuse.

If you ever look at an online auction for Porsche instrument panel clusters, you will see many of them for sale. Most of these clusters are not broken; many of them were replaced from lease vehicles to avoid paying excess mileage charges. From the example above, you can see that this engine has 917 hours in the "Operating Hours Section." This should be compared to the odometer to see if the number makes sense. If you divide the odometer mileage by the operating hours you will have an average MPH.
Example: 12,000 Miles / 917 Operating Hours = 13 MPH
Most cars will average between 30 - 50 MPH depending on how much traffic it is driven in so the value of 13 MPH indicates there could be a discrepancy.
You can also compare and validate the VIN and color codes with the sticker inside of the hood.
Porsche cars from 2005 (997, Boxster 987, Cayman) have 6 ignition ranges that represent different RPM ranges. For more information on these cars, please see our ECU information.
Note: The Enthusiast version is limited to three vehicles, but this limitation does not prevent you from viewing abuse information on an unlimited number of cars.